Dear Friends -
Spring has arrived sooner than we could have imagined! We are enjoying blue skies and sunshine in abundance - and it is the perfect time to plan a getaway to the Berkshires. Whether you are staying for a nite or for a week-end we would be thrilled to welcome you! Right now the Norman Rockwell Museum is open daily and we are only a stone's throw away - and with a 2 nite stay we have our complimentary passes for you - The forsythia is blooming in shades of bright yellow as well as the daffodils have sprouted and the tulips are on their way - our many species of trees are budding and will be in full flower - it is a beautiful time to take a break and relax - enjoy our country breakfast being served to you and see all of nature blooming once again! Our reservation desk is open from 9:00am to 8:00pm daily at 413-298-4015 to confirm a reservation -
We look forward to hearing from you -

With our kindest regards,

Diane and Vernon
Innkeepers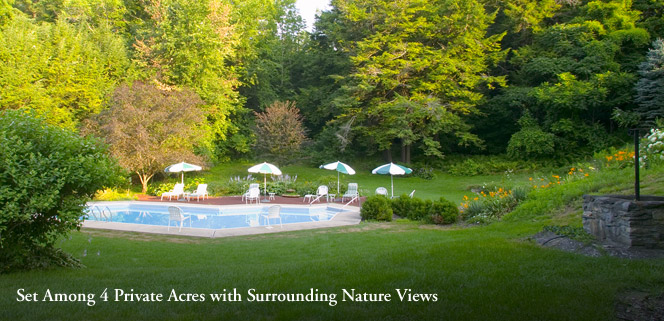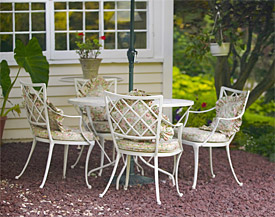 Stockbridge Country Inn of Stockbridge, Mass. located in the Massachusetts Berkshires is an historic country house with a private setting offering eight guest rooms, two dining rooms, sitting and library parlors with fireplaces, the 3 sun rooms, and the newest addition of a grand lobby entrance.The inn is a federal country house dating back to 1856, and is set on approximately four acres of private grounds and landscape. There is an inground swimming pool, carriage barn for storage, and ample places for parking.
The summer breakfast porch features a sweeping view of the gently sloping lawn, gardens and patio surrounding the heated pool. Canopy 4-poster beds, period antiques and baths ensuite furnish the cottage style suites. A classic, full, country breakfast is prepared and served to order each morning of your visit. Early morning coffee, late nite snacks and guest pantry are available for your convenience.
Our fine lodging is located closest to the Norman Rockwell & Chesterwood Museum. Tanglewood, Butternut Ski Basin, Jiminy Peak Ski Resort, Bekshire Theatre Festival, and all Berkshire attractions are just minutes away. We are centrally located among all Berkshire attractions.
The furnishings are American country and most are from our antique shop (Reuss Antiques Gallery) in the village of Stockbridge, MA. In the Summer we open up our large screened in porch where a full country-breakfast is served as well for outside dining. Fall and Winter is spent in the guest sitting room by the fire with hot cider.
It is a bright and warm Inn that makes for a comfortable and relaxing stay. We look forward to meeting you!